Rodrigo Fonti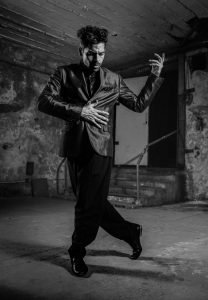 Rodrigo Fonti is a creative and innovative tango dancer and teacher born in Neuquén, southern Argentina. He started dancing tango at 16 and studied modern dance in the Experimental Contemporary Dance School as a choreographer and performer.
In 2010 he moved to Buenos Aires to study tango, immerse himself in "the milonguero spirit" and perform in theatrical productions 'Kambras', 'El sonido de la caricias', 'Cram' 'No bailaras', 'Sin pecado consebido' with which he toured Europe. Mixing his knowledge in tango and contemporary dance, gives freshness, speed and depth to his dance style which opened the door to performances at tango festivals around the world.
His continuous technical study, search for possibilities of movement and exploration of the language of tango, led him to a unique blend of traditional and modern tango.
In his teaching, Rodrigo provides tools which help each student find a meaning to their movement. So that each student can find a style which is personal, comfortable, free and connected. Each student will learn to own their dance and to experience those unique and magical tango moments, which inspires us to continue dancing.
I perform, I teach, I choreograph, I dance at Milongas. Because I love Tango.  I studied at the experimental contemporary dance in southern Argentina, then moved to Buenos Aires to breath milongas. Now I travel the world, as performer at tango festivals, as artist in residence. Whether I go, I give. People feel it and respond. Whether I go, I teach. Not to dance like me, but to dance your tango, the best you can. My style and I are still growing, we both explore, create, innovate.  The journey has just started. There is so much Tango to come. Let's discover together .